The BEST Avian Software...



A Bird Breeder's Management Software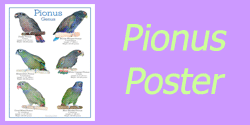 The FIRST Pionus Parrot
Poster that exists!

---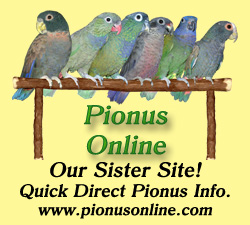 ---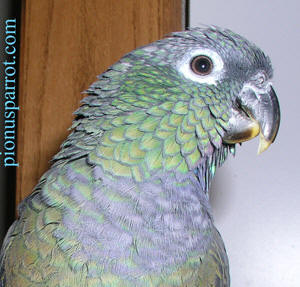 ↑ Maximilian Pionus - Felix 19 Years Old. ↑
---
---
View Our PDF Shopping
and other information

---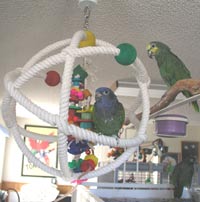 Sweetie-Pi (BH) & Tater (OWA)

---
---



Read on our Page of

Pionus Facts.


'Frequently Asked Questions'
---
Pionus Parrot's Affiliates Page
has parrot related books,
take a look....
---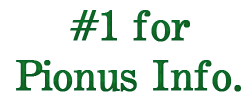 Pionus Parrots are full of personality, wit and charm. They will win your heart over in an instant! The Pionus makes a great pet bird for all ages. We have acquired 6 out of the 8 Pionus Species, 2 are rare and are not available in captivity. In our Pionus Parrots page we further discuss the description of each one briefly. Please take the time to familiarize yourself on each specie of Pionus!
I'm glad you have made it here to Pionus Parrot's website, you will find many things of interest. There are many photos to look at and a lot of information to read. I try to cover many aspects of the Pionus and there is always information being added in. There are many page links leading from one page to another so be sure to see them all. Let me know how you like our website! Thanks for checking us out on the web!
To all parrot lovers, we want everyone to know that the "Pionus Parrot" needs more exposure. We breed and raise these parrots. If you are familiar with the Pionus then you will know what I am talking about, if you are not aware of these parrots then you should take the time to become familiar with what nice parrots they are. You will learn more on the other pages about each species that we raise. Hand fed babies are our number one priority. You have come to one of the few websites to learn about the wonderful world of the Pionus specie.
3 Blue Headed Pionus Babies of 2009 >>
What is the perfect parrot? I would like to think that it is the Pionus Parrot! Every parrot breed is unique. Did you ever want a parrot that you could hold and pet? Then what you need is a weaned hand fed baby bird, this gets them use to the human hand and will not be afraid. Especially when the first thing that the baby bird sees when he opens his eyes will be a person, then they learn that is their parent. Picking up the baby and holding it gets him use to being touched. It's hard to believe, but a baby that has been raised by its real parents, by the time it is 3 weeks old, it will be afraid of a human and has already developed a slight wildness to its personality. Although if taken from the real parents no later than 4 weeks old to be hand fed, it will only take a day or so before the baby feels comfortable with the person that is hand feeding it. It is important for the baby to become well socialized with a variety of people, it sometimes helps so that the baby won't be a one person bird. Many birds do choose one person in time that they want to be with the most, it chooses you as their mate. When I hand feed babies, it's a good idea for the person that wants one of our babies to come and see it eat and hold it and let it get use to you. That way as you come to visit the baby through out his time of development, you will have established a friendship with the baby and when you are ready to take your new baby home, he/she will know you somewhat. You will usually have to visit the baby several times in order for the baby bird to get to know you well enough. It makes it easy on the bird when you take it to your home, at least he will be use to you and he will have to get use to your home and he may be afraid and that will help to make him want to be closer to you.

Shown are 2 Coral Bill & 3 Maximilian Pionus.

These wonderful Pionus parrots make great companions. Their size is smaller than Amazons and not near as loud. They can talk some and mimic sounds well. They make good pets for people who live in apartments and they do not produce loud and obnoxious noise levels as other type of parrots. When looking for a parrot as a pet, hand fed parrots make the best pets although some hand feds can tend to be nippy. Parrots are a lot like people they all have different personalities, no two are alike. This goes for all parrot species, not just Pionus.

Shown at left are 5 young Blue Headed Pionus that was from a past Baby Season!

The price range for our Pionus and Amazons that I raise range from $350. to $800. When looking for a cage, buy the largest cage that you can afford, a rule of thumb should be that the parrot should be able to stretch out the wings in any direction in the cage with out hitting the cage bars or too many other objects inside the cage. Always try to mount perches so that the parrot does not poop in the water or feed dishes when sitting on the perch. Read here about General Pionus Care.
←Baby #8 Male hatched in June of 2008.
We breed and raise these parrots. If you are aware of the Pionus specie, please know that the Coral Billed Pionus makes an exceptional pet as well as the other 5 Pionus species, if you are not aware of these parrots then you should take the time to become familiar with what nice parrots they are. The Coral Billed Pionus are few and far in between, so we are creating more pairs to be able to help have more in the pet trade soon. You have come to one of the few websites to learn about the wonderful world of the Coral Billed Pionus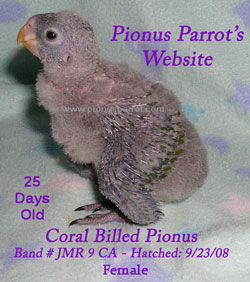 specie.
Shown at right is a female that hatched in the next clutch of 2008. She is the sister to the male shown above. The male's name is Jake and the female is Gabby. They will hopefully be paired up with other unrelated offsprings later on when other pairs have produced babies. The parents of these two babies only produced 2 for the 2008 year. Shown below is one of our other produced males that has a female to be paired with soon. Hope you will take the time to read on our Coral Billed Pionus Breeder Program.

 

You can learn about our

Coral Billed Pionus Breeder Program

and what are striving for in this program. With the Coral Billed Pionus still not plentiful in the pet trade, this will have an impact on helping these very sweet and beautiful Pionus into the pet owners hands. Ideally, we need more breeder pairs produced so we can accomplish this and by doing this we can produce babies to bring to you... the pet owner! This is a time consuming effort and is in no means an over night success and will take a few short years to accomplish this.
Does your bird scream too much?
Click Here

Parrot Word Search Puzzles HERE

This Website is Best Viewed With Microsoft Internet Explorer and Monitor Setting at 1024 x 768 or higher. This site does NOT look as good viewing with Mozilla Firefox. All photos in color frames are linked.




Click on photo to read
about creating this website.