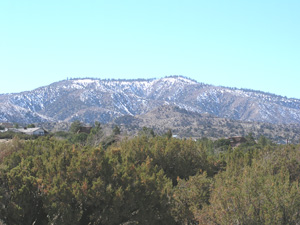 While being secluded from city life of the hustle and bustle, our parrots get no complaints from neighbors. We are nestled on the other side of the mountains from the Los Angeles basin. In the foot hills below Wrightwood, California over looking the well known Mojave Desert. We are only 10 miles from our local mountain resort of beautiful Wrightwood, check out the two websites at: www.wrightwoodca.com and www.wrightwoodcalif.com it is a pretty place to visit and above Wrightwood is Mt. High Ski Resort. Its very popular for those who like to snowboard and ski that live in the greater Los Angeles basin and surrounding areas. Our closest large city to drive to is 25 miles away but we have a small shopping area 3 miles away. Some might think that we are in the middle of no where but believe me, we are somewhere!

We have four seasons here, summers are short and can sometimes be fairly hot when a heat wave comes our way. The elevation here is 4600 feet above sea level. It is as much as 10 degrees cooler here than where we shop at just a few miles away. The winters are cold, we get snow here. The Pionus' do well with the cold weather. Temperatures can drop as low as 15 degrees above zero, so far no problems. I once tried to breed the African Greys but they do not handle cold weather very well, so I don't breed them anymore. The main thing I watch for is that the toes can easily be frost bitten. I do run heat lamps if necessary.
<![if !vml]> Most Popular Eating Place ...
Rick's Roadside Café
<![endif]>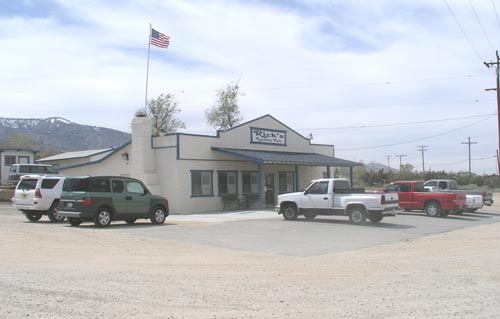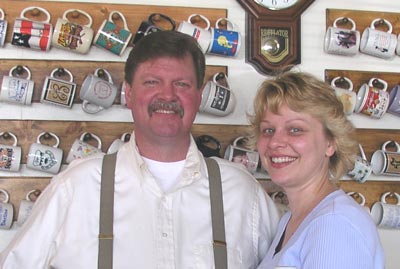 The High Desert's most favorite eating place among many of the local people here in the area is "Rick's Roadside Café". The good food, friendly and warm family oriented atmosphere brings back repeat customers over and over. Owners are Rick & Dawn and they strive in making this place a great place to eat. The place was also known as the Yucca Inn (look on last map below as you will see it as the Yucca Inn) since the early 1930's and has gone through several changes over the course of time and Rick has done some new face lifts to the building for the better. Often my own customers will stop in at "Rick's" to eat when they come to see their babies that they buy from me, which is right near us. They tell me its a great place to eat! If ever in the area, stop in at Rick's Roadside Café - you are sure to have a great meal! You can find them at the corner of Hwy. 138 and Beekley Road Pinon Hills, CA. Hours are 7 days a week from 7: AM to 2: PM and closed on some holidays. Breakfast is served through the day too! Dinners are served once a month by reservations only. Thank you - Rick & Dawn for such a wonderful place!!
The "Yucca Inn" back in the mid 1960's (known now as "Rick's Roadside Café")
You would never know now to look at the building that it once housed a 'Gas Station' in the front, it had two gas pumps.
In the mid 1960's Reg's parents leased the "Yucca Inn" for 5 years, they served hamburgers and of course it had the bar and a pool table.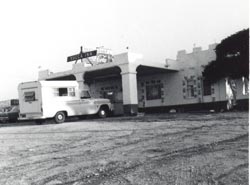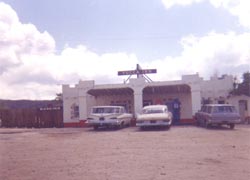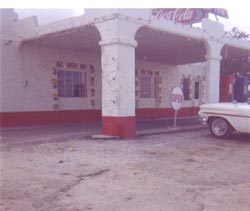 ---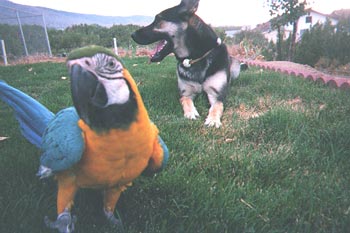 Reg and I have lived at this location for 28 years now and there is a lot of new growth in our area. We are on 2½ acres so this makes it nice that our neighbors are not on top of us. It gives us plenty of room to have our birds. We are secluded enough that you don't see the others around us too much and it's a fairly quite area.
The birds will often get to go out front on the lawn and play in the grass - they love it and the dogs love romping around as well.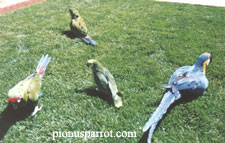 Here the birds love to play on the grass. Pictured is 2 young Military Macaws on far left with Tiki (Blue Front Amazon in center) and Kuka on right.
Far left photo is Kuka and Koko.