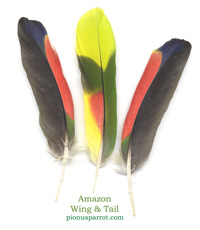 We have bred two species of Amazons, which was the Blue Fronted and the Orange Winged ... we no longer breed parrots. I never wrote any info on the two species except for the update on the babies. You can view baby bird images from the Baby Bird page.

To name a few Amazon species that are available in the pet trade is the Blue Fronted, Lilac Crown, Red Lored, Mealy, White Fronted, Red Spectacled, Yellow Headed, Yellow Nape, Green Cheek, Tucuman, Panama. There are 31 Amazon species all together and most are not available and many are rare.

This picture of the feathers above is from our Blue Front Amazon and shows a tail feather in center and wing feathers on the left and right of tail feather. Most all Amazons have the same tail feathers and the wings are all about the same as well, they may vary slightly from specie to specie.
Here is a list of the 31 Amazon Species.
The ones with an * you will find most commonly in the pet trade.
Black Billed
Blue Cheeked
Blue Fronted*
Cuban
Diademed
Festive
Green Cheeked
Hisppaniolan
Imperial
Lilac Crowned*
Mealy*
Orange Winged*
Puerto Rican
Red Crowned
Red Lored*
Red Necked
Red Spectacled*
Red Tailed
St. Lucia
St. Vincent
Scaly Naped
Tucuman*
Vinaceous
White Fronted*
Yellow Billed
Yellow Crowned
Yellow Faced
Yellow Headed*
Yellow Lored
Yellow Nape*
Yellow Shouldered
Listed below are two Amazon species, the Orange Wing and Blue Front.

Orange-Winged Amazon

Description: generally green; nape feathers faintly edged with black; cheeks and front of crown yellow, also occasionally forehead; lores and area above eyes violet-blue; edge of wing yellowish-green; primaries green becoming violet-blue with black tips; orange wing-speculum across three outer secondaries, occasionally across fourth and fifth as well; tail green with greenish-yellow tips; outer feathers washed with orange-red; skin to periophthalmic ring grey; bill horn-colored with grey tip; iris yellow to orange; feet grey.

Off Springs: with less intense coloration; iris dark.

Length: 31 cm (12 ins)

Distribution: east of Andes in Colombia, Venezuela, eastern Ecuador, eastern Peru, northern Bolivia, Brazil, French Guiana, Guyana and Surinam.
Habitat: forests, mangroves, swamps, more open areas and secondary vegetation in the humid tropical zone to 650 m (1,950 ft); occasionally seen in drier areas, parks and village squares with tall trees.
Status: common throughout range.
Habits: in pairs or small groups; large flocks up to several hundred, occasionally one thousand birds, on feeding and roosting trees; mostly seen flying or perching on bare branches in tops of tall trees; morning and evening flights to and from roosting sites conspicuous; often seen on feeding trees with Yellow-crowned Amazon (Amazona ochrocephala), Blue-cheeked Amazon (Amazona d.rhodocorytha), Mealy Amazon (Amazona farinosa) or Blue-fronted Amazon (Amazona aestiva); enjoys climbing; noisy during flight and on roosting trees; quiet when feeding; call loud, metallic and disyllabic.
Natural Diet: fruits, seeds, berries, nuts, flowers and buds; occasionally forages in plantations.
Breeding Behavior: breeding season in Venezuela April to June, on Trinidad May to July, in Surinam from February to March and in Colombia from December to February; nests in dead palms or holes in trees; often very high; nest hole in one case 1,6 m (5 ft) deep; clutch 2 to 5 eggs; incubation about 3 weeks; only female broods; fed by male, who stays in vicinity of nest hole during day; female only leaves nest for short period; at night male leaves breeding site and roosts with flock; egg measures 37,4 x 29,1 mm (1.47 x 1.15 ins).
Aviculture: medium-noisy to noisy; hardy; initially wary, but soon becomes confiding; hard chewer and enjoys bathing; has been kept at liberty.
Accommodation: outdoor aviary 4 x 1,5 x 2 m (12 x 4.5 x 6 ft) with adjoining shelter 1,5 x 1 x 2 m (4.5 x 3 x 6 ft); metal construction recommended; minimum temperature in winter 5°C (41°F).
Diet: seed mix of safflower, wheat, oats, pigeon food, hemp, dried rowan berries, buckwheat and mung beans; sprouted sunflower; some pine-nuts; various fruit and vegetables; half-ripe maize; rose hips; green food; regular mineral supplements.
Breeding in Aviculture: regularly achieved; breeding best from May; clutch 2 to 5 eggs; incubation 26 days; fledging period 8 weeks; dislikes disturbance while breeding; nest box 26 x 26 x 80 cm (10 x 10 x 32 ins).