<![if !vml]>Jen's Ren Faire
<![endif]>
Jennifer loved working at the Renaissance Pleasure Faire, she had only been in her second year of working at the faire.
She had fun and could talk the Elizabethan Language and wore Peasant Class type clothing. The Elizabethan period covers
years 1558 through 1602. Jen was a very out going person which is why this was so easy and fun for her. She made many
new friends there at the faire. The faire runs for 6 weeks and is held on the week ends and Memorial Day, see more faire info at bottom.
Take a look at a few photos shown here.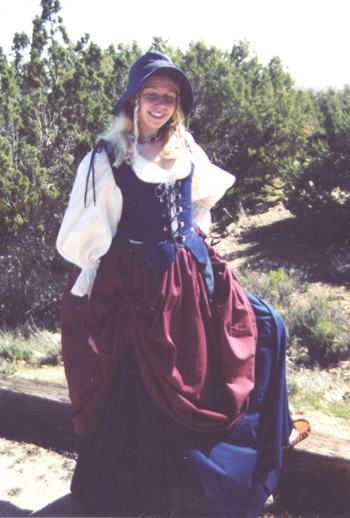 Jen poised outside at home in her Ren Faire Costume.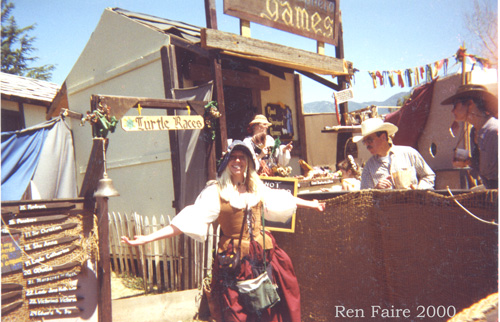 Jen working the game of the Turtle Races. The turtle games was one of several games at the booth where she worked.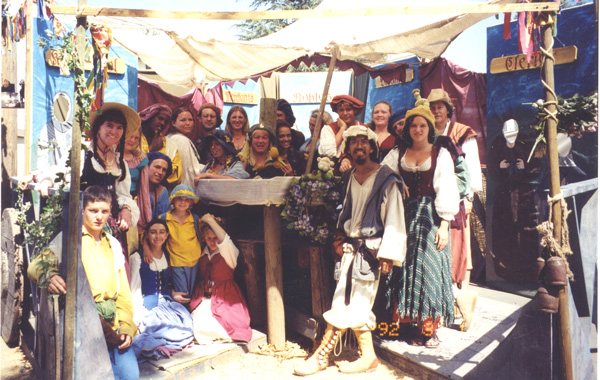 Jen is on the left side of the lady Mary that is in center sitting at table who ran the booth of the children's games.
The name of the booth is 'The Good Shepard's Games'. Jen also worked at another booth, called the 'Boar's Head',
where they sell food and snacks & serve lunch or dinner along with live entertainment.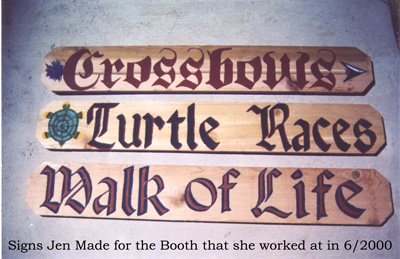 Jen was paid for making these signs for the game booth where she worked.
This is three out of several others that she painted, she did a great job!
BACK TO JEN'S PAGE JEN ON VACATION JEN'S ART WORK
Interested in learning about the Renaissance Faire, attending or participating?
Click on the link.
Renaissance Pleasure Faire at Santa Fe Dam Recreation Area - Irwindale, CA.
Ticket Prices
©2001-2013 Pionus Parrot - All Rights Reserved
No reproductions of photos are permitted without prior written consent.