Itty Bitty
Blue Front Amazon
Owner Bobbie in Washington
Read a short story on Itty Bitty, the Blue Front Amazon
My Mommy picked me out when I was just three weeks old , my first picture was taken at the age of four weeks. Mommy came to see me often and of course always had her camera with her to take pictures of me. There was four of us hatched on the first of August of 2003 (from local breeder in my area). She watched me go thru the pin feathering period and thought will this baby ever look like the Blue Front she use to own? The first Blue Front that Mommy owned was fully grown when she bought him, his name was "Peppers", so she wanted me to look just like Peppers, and I will look like him!
Mommy brought me to my new home around the middle of October, oh boy! I thought, new home and a new cage and no more brothers or sisters to keep me company but with her love, it helped me thru it so I wouldn't miss my siblings too much so she gave me a lot of attention.

I am now nine months old, and I am happy, healthy and a sweet little girl (DNA test was run) Mommy had me home with her when she got the results back saying "It's a girl", Mommy's mind sure was working over time trying to come up with a name for me, then ~bingo~ I got named "Itty Bitty"! My favorite time of the day is when Mommy cleans my cage (every day) oh boy, play time but this is after breakfast and I sit on her shoulder while she is preparing it and if I think she is to slow I pinch her neck and it makes my Mommy say "ouchy", I do not bite, I pinch! I will not eat cooked foods, all frozen (warmed in hot water) My most favorite is fresh food is green beans and corn, but name it and I like most all veggies, fruits and nuts. Mommy also feeds me Lafeber's and Fanta seeds. I get a spray bath every week and I love it, then she blow dries me. There is one thing I really don't care for and that is the visit to my Doctor, because he rolls me up in a towel and trims my nails, clips my wings and then oh boy . . .my beak (yucky) but us ladies have to look our best, don't you agree?
Look below for many of my beautiful pictures, I'm sure you will agree that I am a very pretty Blue Front Amazon!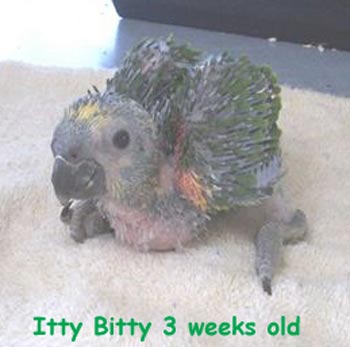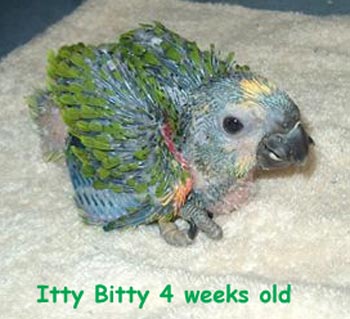 Here I am . . . just a wee little baby, do you think I'm a cutie?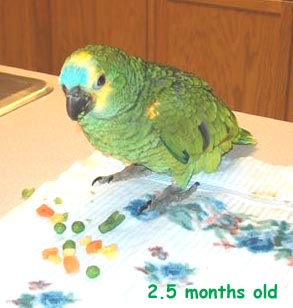 ←Here I am at nearly three months old, " I think I'll try a carrot"!


↓At 3 months old " Mommy says I can not play in her plants".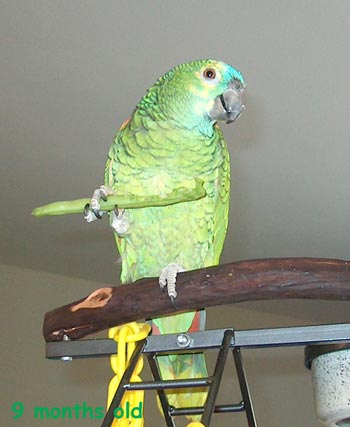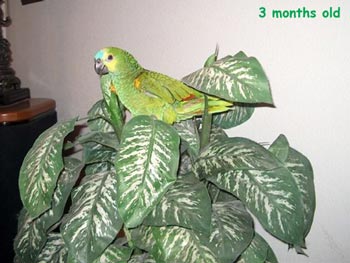 May 9th, 2004
Here I am at 9 months old, looking more beautiful than ever!
"Yummy, I love Green Beans"!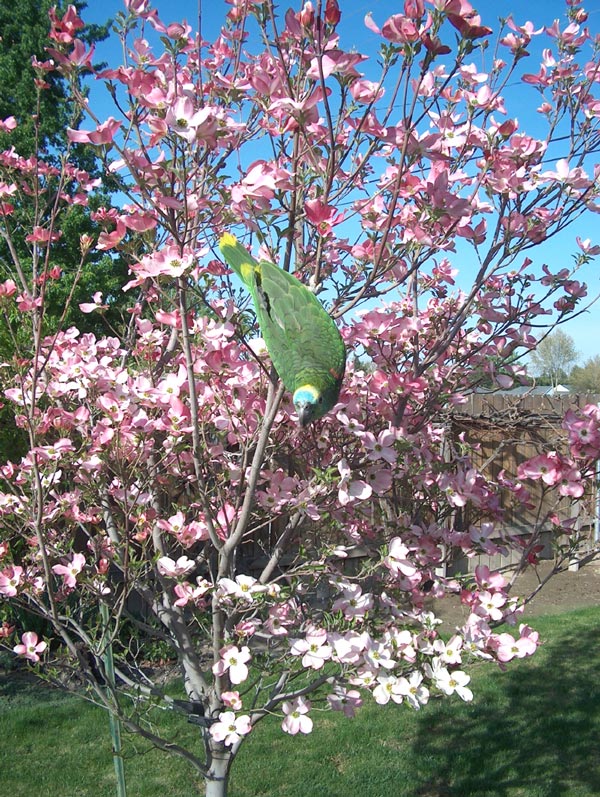 Blue Front Amazon - Itty Bitty plays in a Beautiful Dogwood Tree.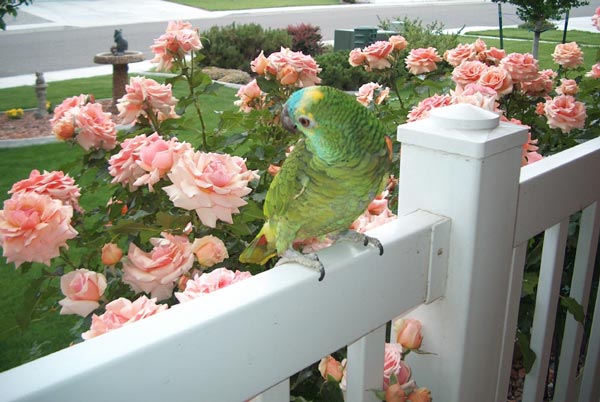 Itty Bitty poses by the pretty roses and she says "Mommy they smell good"!