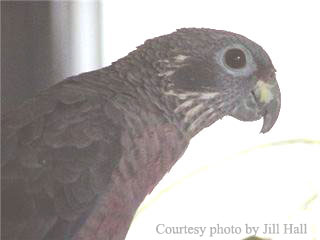 My husband's first contact with Pionus Parrots was 14 years ago, when he saw a Dusky pair at a breeder's home. He told the breeder at this time, if they were ever successful in breeding, he would be interested in one of the babies. He also knew of another breeder who concentrated on Pionus at that point, but since they're relatively unknown in our area, she switched to breeding other more "popular" species of birds.

Our first Pionus was a wedding gift (with our consent) from a dear friend of ours, who breeds White Caps and Blue Headed Pionus. Kringle was a female White Cap Pionus who's life was cut short by a somewhat unknown illness. Her witty, loving, outgoing personality captured our hearts.

Three years later, I saw an ad in the paper for a Dusky Pionus. Since my husband has always been fascinated by Duskys, I contacted the owner immediately. Sadly, he no longer had time for this Pi and that is why he was seeking a new home for her. Mistletoe joined our family, December 2001 and adapted rather well to her new family. August 2002, we added our third Pionus a 4 month old Blue Headed hen named Willow.

Our impression of the Dusky Pionus is they make excellent pets, especially for the first time bird owner. Mistletoe is relatively quiet, but will screech when excited or annoyed, sounding a bit like a Conure. She is very gently and is content to sit with the family for long periods of time. Missy also enjoys playing on a "boing" her manzanita playgym and prefers hanging toys to talon toys.

Both our girls are excellent eaters and are eager to try new foods .. not the least bit food rigid. This makes cooking and dinner time a joy, as they look forward to sampling what we are serving each evening.

We feel one of their most striking traits is the sweet, musky scent that everyone comments on when then they first meet them. Mistletoe may not be have the flashy, bright colored feathers of some other species, but when the sunlight or the flash from a camera hits her iridescent feathers, the colors come alive. Although Pionus are not known for the extensive vocabularies, Mistletoe and Willow both say "step up" and Missy will wolf whistle when her father comes into sight. When talking their voices have an electronic sound, which is understandable, but not crystal clear.

When startled or scared, Pionus make a "wheezing" sound, which can be easily mistaken for a respiratory infection. Willow will many times "sniff" when we are giving her "scratches," as well. We've noticed that they're not as bold or as outgoing with strangers or new situations, so introducing them slowly is important. When given the time to acclimate themselves, they soon become at ease. Both are quite comfortable with our dogs and cats (supervised, of course), as well as the rest of our flock.

One quirky behavior my husband and I have witnessed with Mistletoe and Willow, when they become excited they will throw their heads from left to right and band their beaks on our hands. This behavior we've only noticed when handling them.

Neither Mistletoe or Willow are night owls. They are the first parrots in our flock to go to bed and many times the first to rise. If it becomes later in the evening and they're out interacting with the family, they will get a bit nippy or agitated, so we know it's time to retire and put the girls to bed.

In our opinion, the Pionus Parrots are probably one of the best kept secrets in the "bird world" and that is why we often say, "perfectly Pionus," when we are referring to Mistletoe and Willow.