Coral Bill Pionus Breeder Pair # 4

NO BABIES HAVE BEEN PRODUCED FROM THIS PAIR YET.
This Pair's name is Cora & Bill


Coral Bill Pair #4
Male (Bill) on left and female (Cora) on right.


Male Coral Bill of Pair #4 - 2 years old in this photo - he was hatched in 2005.

Pair #4 was also paired up in June of '07. What I did was set up an IP Camera so I could monitor them while in the house sitting at my computer so I would know if there was any problems of them fighting or bickering. Both Pair #'s 3 & 4 got along better than I thought they might.


This pair may not think of breeding until the year of 2009.

More to come ...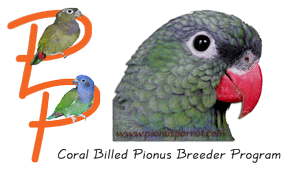 HOME
Updated February 22, 2009
©2002-2007 Pionus Parrot - All Rights Reserved
All photos on this site are the property of pionusparrot.com and can not be used without written consent.