Coral Bill Pionus Breeder Pair # 3




NO BABIES HAVE BEEN PRODUCED FROM THIS PAIR YET.
This Pair's name is Fred & Ethel


This is Coral Bill Pair #3
Male (Fred) on left and female (Ethel) on right.


Male on perch and female on food bowl.



Pair #3 was paired up in June of '07 and they seem to be getting along fine so far. I know at first they wanted nothing to do with each other but now they are perching side by side and like each other now!

Possibility of this pair reproducing may not be until at least 2009 or 2010.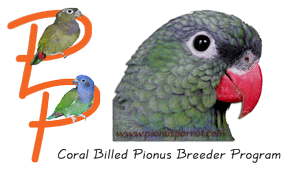 HOME
Updated February 22, 2009
©2002-2007 Pionus Parrot - All Rights Reserved
All photos on this site are the property of pionusparrot.com and can not be used without written consent.