Coral Bill Pionus Breeder Pair # 2


Ricky & Lucy

This is the second pair acquired in April of 2005.
They are a bonded pair and will hopefully "prove" themselves soon!

Photos below are shown in no particular order - this is Pair #2.

Ricky & Lucy are well bonded but as of January 2009 they still have not shown any real signs of nesting. Hopefully in the spring of 2009 into summer they will show some interest in breeding.

After I sold this pair to Feather Focus in October of 2009, Deb sold this pair to another person, Lucy died just after the change in ownership.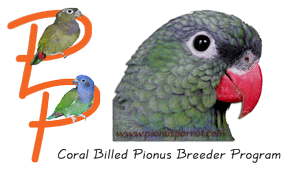 HOME
Update January 14, 2012
©2002-2009 Pionus Parrot - All Rights Reserved
All photos on this site are the property of pionusparrot.com and can not be used without written consent.