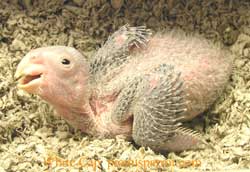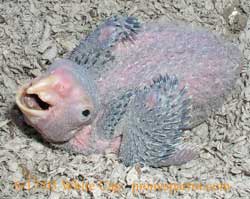 6/17/03 - One White Cap baby is doing well and has eyes opened. She was brought in from the nest. She is 24 days old. She has the leg band on now.
---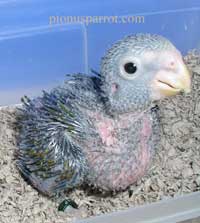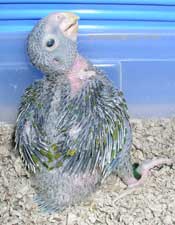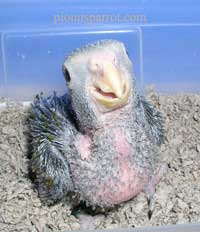 6/24/03 - Baby WC is doing well and is 31 days old. He is now eating 13 cc of Roudybush Hand Feeding formula. She is pin feathering out more and now has some green showing on the wings.
---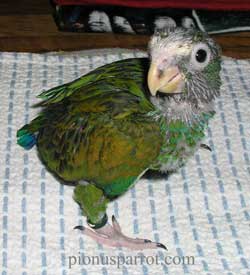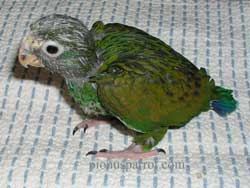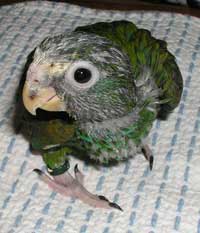 7/06/03 - Here is the little White Cap almost completely feathered and she's a cutie! She/he now has some nest buddies! Two Orange Wing Amazon babies pictured below.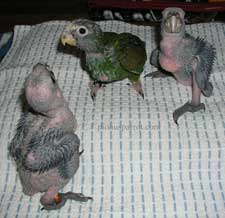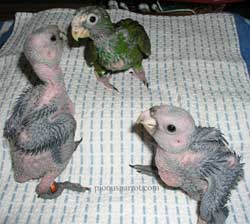 They are all doing great, the White Cap is eating 15 cc at each feeding and the Orange Wings are eating 20 cc at each feeding, they are slightly larger than the White Cap now.
---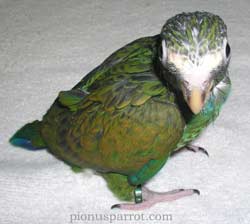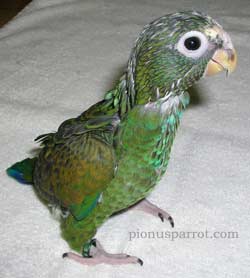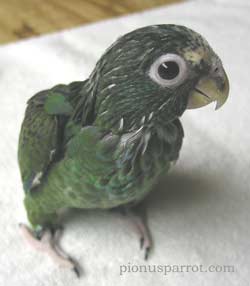 7/11/03 - The White Cap is feathered out nicely now and he looks real cute, eating still 15 cc of formula per feeding.
---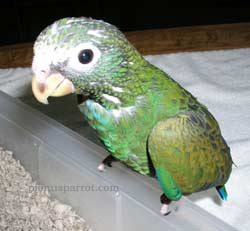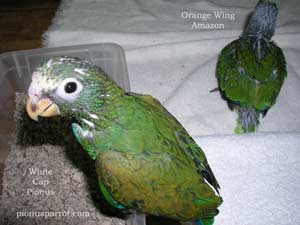 7/19/03 - Well. . . She thinks she is just too good for the tub. She wants to be out all the time. She still only eats about 15 cc's of formula per feeding. She has not taken a flight as of yet. The toe nails on all the babies were extremely pin sharp so they each got a nail trim and oh how it feels so much better to the skin.
---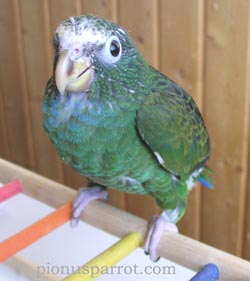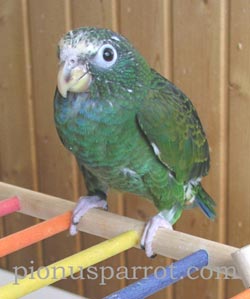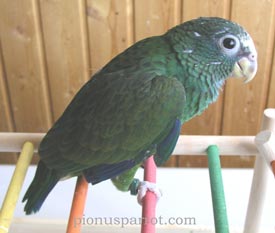 7/25/03 - Baby WC is doing well and she has had her flight feathers clipped as she was a wicked flyer and was due to injure herself. Some babies when they learn to fly can fly somewhat gracefully enough and other literally crash hard into everything. I let the babies take a few flights even if they do not fly good. She is very sweet although I think she is already getting a typical White Cap attitude! There probably won't be too much difference in new photos that will be taken except the white on the head but that won't fill in for quite a while.
---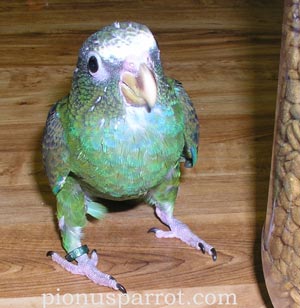 8/2/03 - WC is still looking about the same!
She loves to be held and gets along well with the Orange Wing Amazon babies. Eating formula 3 times a day and is nibbling slightly on soft foods.
WC looks a little full in the chest as the crop is full just after eating, I can only get about 15cc in her per feeding. She thinks she has more important things to do besides eating; I'm not sure what that would be! She's always quick to want to leave the syringe! She is sort of a busy body.
Check back here in about a week from now.
---
8/8/03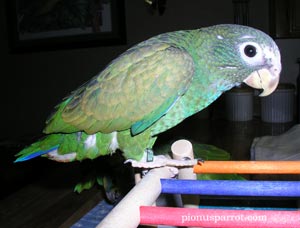 Such a cutie! Starting Monday, Aug. 11th she will be cut to 2 hand feedings a day. Her feathers are very nice and hopefully they stay that way. Many times they end up breaking the tail feathers. Her tail feathers are all intact right now.
The white on the head does not fully come in for another few months.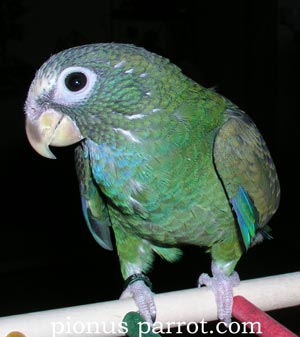 These are some close up photos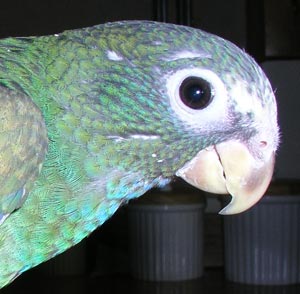 of WC.

---
8/21/03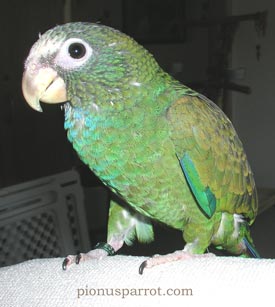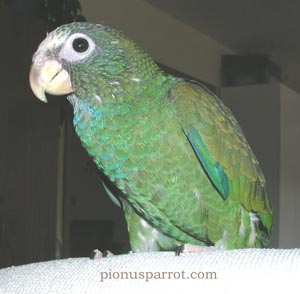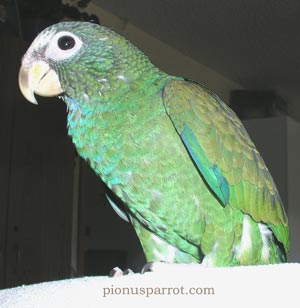 Baby WC is doing quite well, still on 2-3 hand feedings a day and will be cut to two feedings per day along with other goodies for her to nibble on.
Baby WC is no longer available as she has a new home to go to when she is weaned.
Feathers soft and in perfect condition. She is beautiful. Although that can sometimes change if they get careless in the things they do. She's friendly and loves to be held and enjoys being with the two Orange Wing Amazons.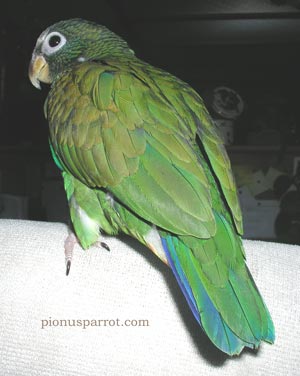 New owner, Sarah should be very pleased when she gets her new young White Cap Pionus!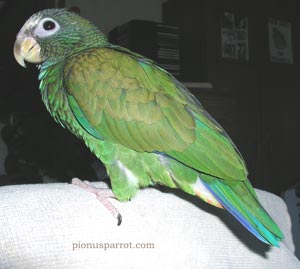 ---
9/7/03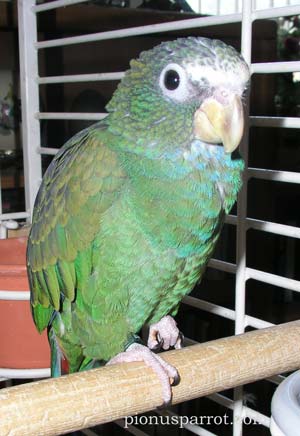 Sarah, owner of this little cutie was thrilled that the DNA sexing turned out to be a female as that is what she was hoping for. WC is about to have a name of her own. She is beautiful in every way and she sure does love to be loved!

Picture here↓ she is with #2 Maximilian, you can see there is some considerable difference in size between the two.
WC is still not eating hardly anything on her own, and still is on 2 hand feedings a day.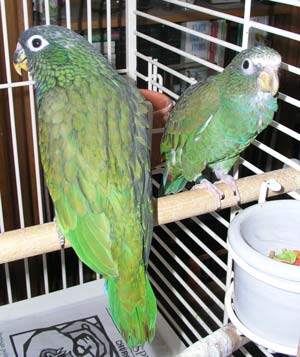 ---
9/17/03 White Cap Now Named.
New owner to be has named her Julie! She sure is a beauty! And very sweet too!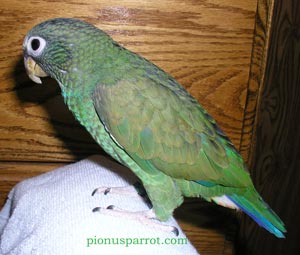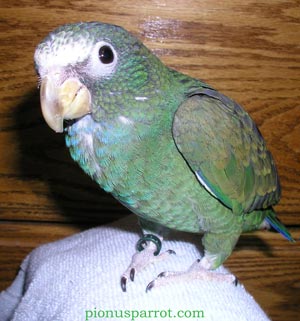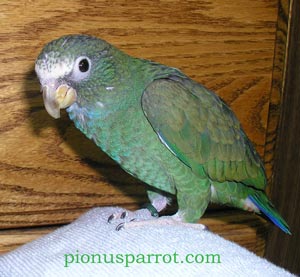 Julie poses on the back of the chair for some nice poses, isn't she so sweet looking? And she is just that!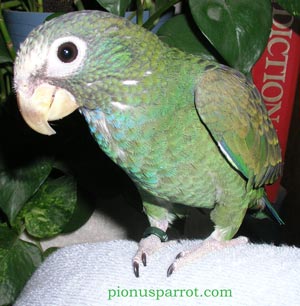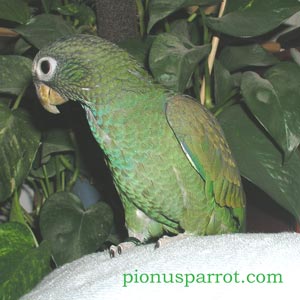 As I take pictures of Julie she says to herself
"Hmmm - What is this green thing?" She wanted to bite the leaves.
She is very easy going and seems to like the things around her, she doesn't seem to be timid at all. This is good as new owner, Sarah plans on taking her about and wants her to be well socialized with others around her.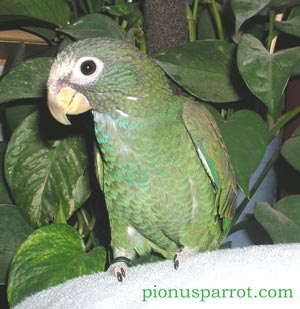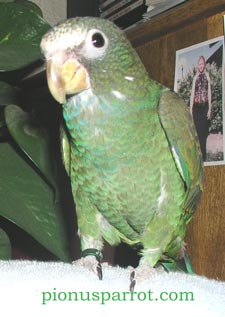 Julie has gone to her new owner Sarah in Las Vegas, Nevada on August 21, 2003 and she is doing well.