2nd Clutch ~
Here are some other sweet Orange Wing Amazons. Their hatch date was August 7th & 8th.
They are doing well and are on three feedings a day.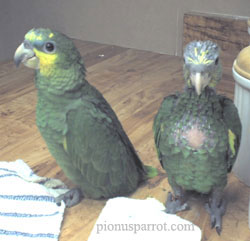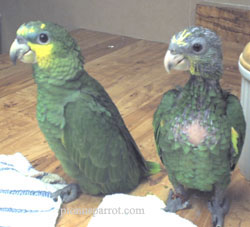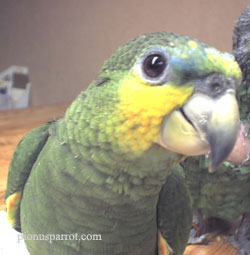 The smaller one is still filling in with feathers on the front area on the chest. They are now wanting out of their tub all the time. They think they are too good to be in the tub!

---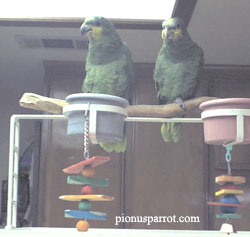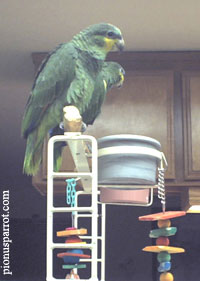 October 28, 2002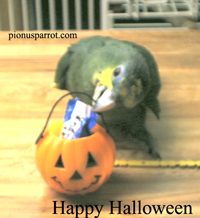 These two are still being feed three times a day, it will soon be twice a day. They nibble on fruit, veggies and seed. They love playing with the toys, too! They are very sweet and very clownish. They love to have their heads scratched! They are getting along good with the other birds around them. They have been in cage for a while now and they love climbing around. They should be weaned near the middle of December.
---
November 7, 2002
Play Time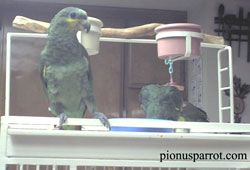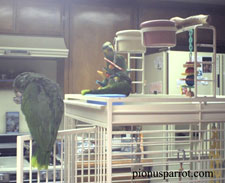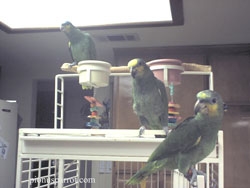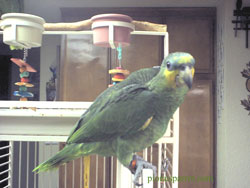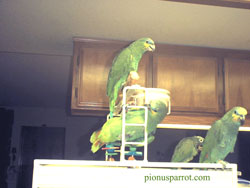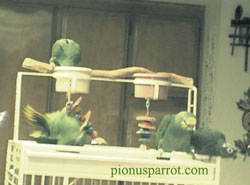 The two Orange Wings are doing well with nibbling on food, they
love to play a lot with their toys and with each other. I am now
hand feeding them 2 times a day, but it's hard for them.
---
November 8, 2002
On two hand feedings per day plus they are eating veggies, fruit, soak-n-cook.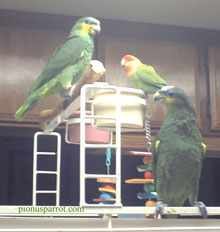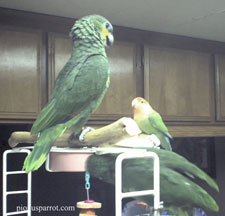 Jasper the Love Bird is not afraid of these Amazons who are so much larger than he is.
Jasper is eating while the Amazons try to get him but he keeps on eating as he thinks
it is entertaining. He likes flying around the all the other birds to give them a bad time!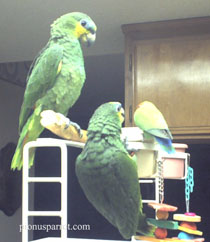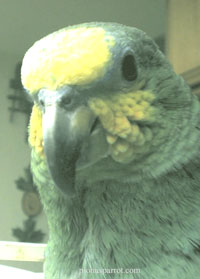 We'll get you when you're not looking! This is Tater, from the first clutch. He
is weaned. He is no longer available.
He is the one on the other Amazon page.
November 23 ~ Tater is sad to see his little Maximilian girl buddy leave us and go to her
new home. After all they were raised together and they would love and preen each other.
---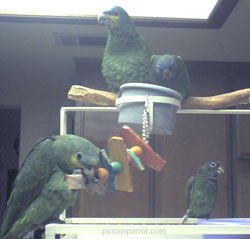 November 23, 02 ~ These guys have been very sweet and as usual I will miss them when they go. I am having a hard time with them still wanting to be fed three times a day, when they should only be on twice a day. They see me feeding the Blue Heads so that makes them start begging to be fed. Naturally, I feel bad for them so I end up feeding them.
Click here to see them at chow Time on some Mexican
food! They seem to think this was quite yummy!

---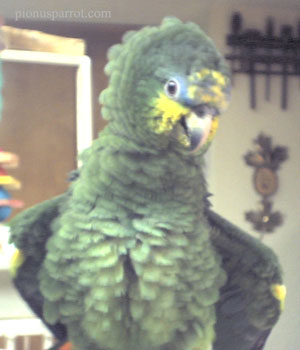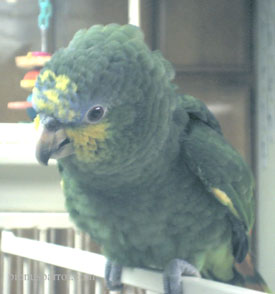 12/04/02 This Orange Wing was excited and was standing up his feathers
due to a small remote controlled car that was running on the floor. First photo
is slightly blurred but you can still see how the nape feathers stand high.
Orange Wings tend to have slightly longer nape feathers, I call him my little
Hawk Head as that is what he reminds me of ! This baby has been sold.
No Orange Wings are available at this time.
Back to Baby Birds Page
Baby Orange Wing Updates Page 1 ~ Baby Maximilian Page ~ Baby Blue Heads Updates