Hatched July 4th & 7th & 12th 2003
Approximate weaned dates are October 18th - 30th, 2003
All three Maximilian babies are now sold.
MOST RECENT PHOTOS ARE PLACED TOWARDS LOWER SECTION ON PAGE.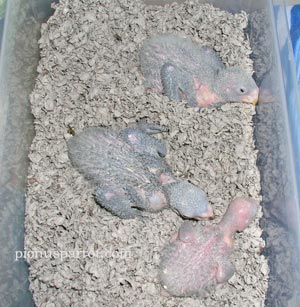 These are the three Maximilian chicks that were in the nest in foster care by the White Cap Hen.
7/25/03 - Three baby Maximilian Pionus were brought in the house today to take over with hand feeding. The foster hen White Cap did a fantastic job on raising them to this point.
The oldest is in the center, 2nd oldest at the top and the youngest is near bottom in this photo.
Check back in just a few days to see more of their progress.
---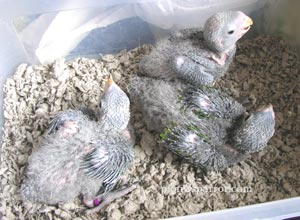 8/2/03 - You can certainly see some growth from the last photo above. Doing very well and eating between 10-15 cc per feeding per bird.
The center chick is starting to show some green on the wings and is also the oldest of the three and is 2 days away from being a month old. They are becoming more alert with their surroundings.

---
8/8/03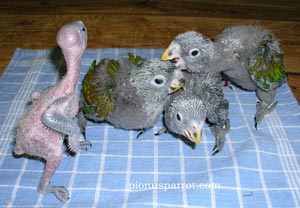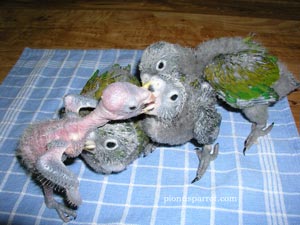 The three babies are doing well, here they are posed with the Blue Head on left, that you may have seen on the Baby Blue Head page.
The oldest Maximilian that is pictured here weighs 235 grams. Eating about 15-18 cc of formula per feeding four times a day.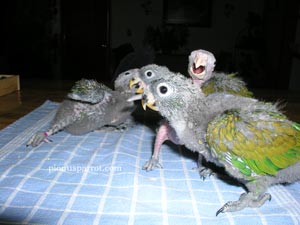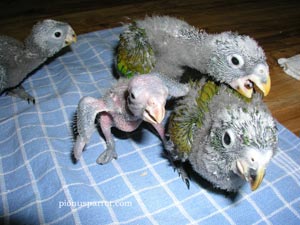 They are really getting cute at this age. Here they were hungry and was wanting to eat while I tried to get
photos which were not turning out so great. I will have more photos here in the next day or two. Check back soon!
---
8/18/03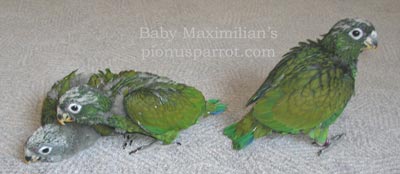 Here are the three baby Maxi's - doing very well and feathering out quite nicely.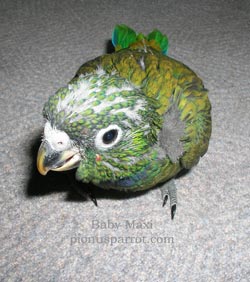 Here is one pictured by its self, they are all cuties!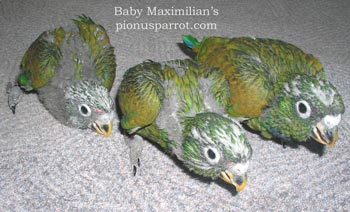 They are a bit shy due to the fact they are not use to being down on the floor.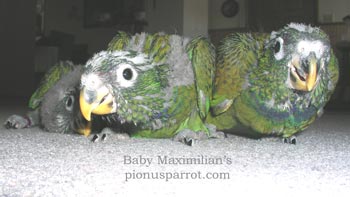 Now at about one and a half months old, they are eating about 20 cc of formula
per feeding at four times a day. Today I clipped the tips of their toe nails
as they were very pin point needle feeling, now that feels better!
---
8/24/03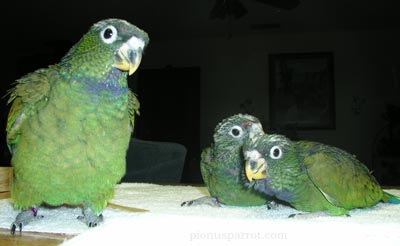 The baby Maxi on the left is the one that has sold today. The photo tends to make him appear much larger than he is compared to the other two on the right.

The one on the left seemed to be most friendliest to Frank & Lori when they came to see the babies today. He is the oldest of the three by a few days apart from one another.

Now eating 22cc of formula per feeding. They are doing very well as you can tell from the photos that they have feathered out more since the last pics were taken.

---
8/29/03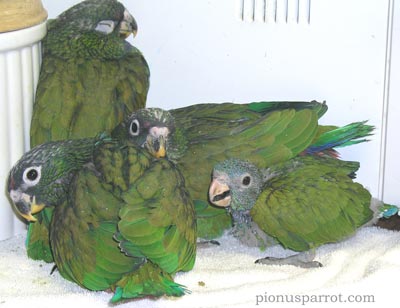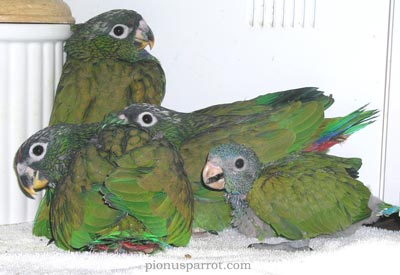 The Maximilian Babies sure seem so big for their age. The threesome are pictured here with Flynn the Blue Head.
In the left photos oldest Maxi is getting a little shut eye of a nap as they all started settling down to take a little nap, I get out the camera but they stayed in the same positions as I snap some shots of them. They are all eating at least 22cc still. The oldest of the four has taken a first flight and is also climbing on the small play gym that I have set up for them on the counter, it gives them some climbing experience.
---
The three Maximilian babies have developed quickly. They seemed to take a giant leap forward on the climbing, perching and playing. They tend to get clownish when they play at times. They are all ever so sweet.
←This is #1 and he is owned by Frank & Lori and they wanted to know his sex and he turns out to be a male.
He also now has a name picked out by Frank & Lori and they decided on Ziggy, so I will call him Ziggy to get him use to his name. He is very sweet.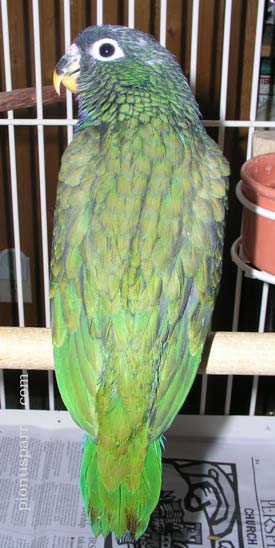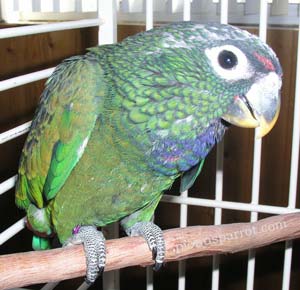 ←This is # 3
← NOW SOLD TO BETTY
as of 9/16/03


← NOW SOLD TO BETTY as of 9/16/03
←This is #2
Remember, any of the red that you see on these babies on the the head face or chest area will disappear after first molt. They have their chests with the pretty bluish/purplish color.

#2 & #3 are not sexed yet but can be when purchased if new owner request it, it is an additional $20 for DNA sexing and I do not charge extra to take the sample and send it in. It only takes about a week to get the results back. I think it is always nice to know the sex of a bird, none of us don't like calling a bird a boy's name and then find out that it is really a girl!
---
9/17/03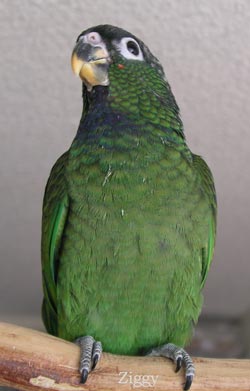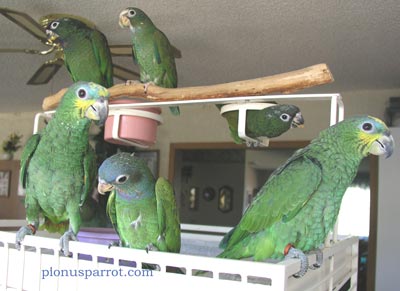 This is Ziggy Here are 6 out of the 7 babies. Flynn in center front between Orange Wings.
On top is #3 Maxi and Julie the White Cap and Ziggy on feeder ring.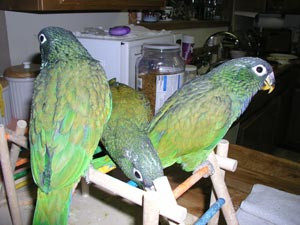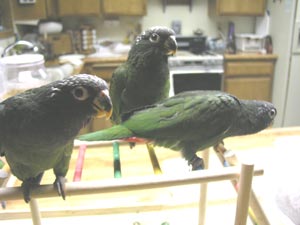 Playing around on the counter, they climb up and down and all around. Ziggy is continuously hopping
up on top of the microwave oven.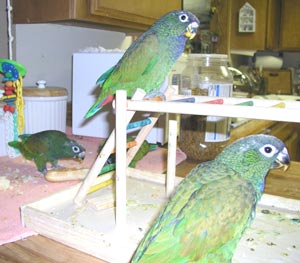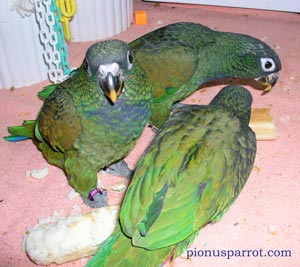 Here they are eating on or should I say tearing up the bread! They are having fun with it.
The 3 maxi's are still on 2 hand feedings a day, they never seem to have any amount in their crops from them eating on their own, but it shouldn't be long.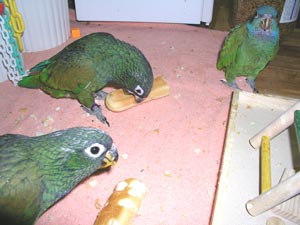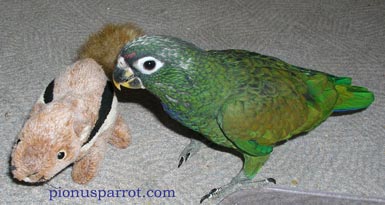 Here you see on the last three photos #2 Maxi has climbed down and is on the floor he wanted to check out
"What in the heck is this thing!" I told him it was the little dog's stuffed chipmunk toy and then he had to check out the rope as well!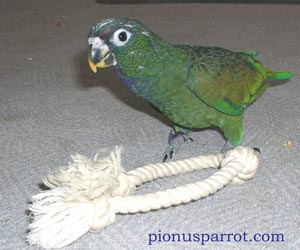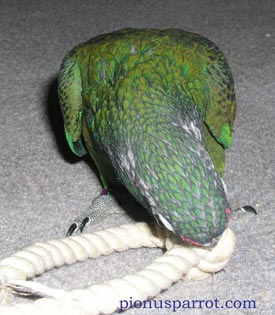 He plays with the rope for a few minutes as I take pictures of him checking out the dog toy rope .
All three Maximilian babies are as sweet as pie!
Maxi - Ziggy has gone to his new home to Lori in Laguna Niguel, California on October 26, 2003.
The other 2 Maxi's went to their owner Betty in Bishop, California near end of October.