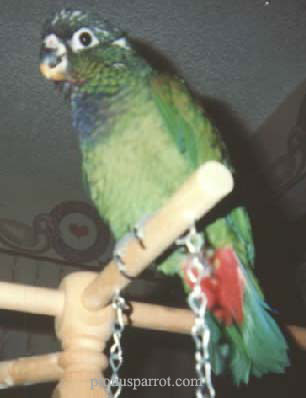 This is what a Maximilian Pionus looks like when fully developed.
This young Maximilian is no longer available
---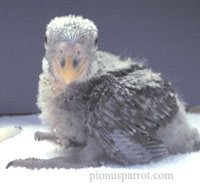 Hatched on June 13, 2002
Baby Maximilian Pionus at now 24 days old.
This baby was brought in from the nest at 2½ weeks old.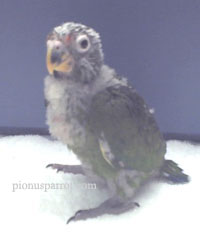 July 16, 02
Notice the red on the forehead, that is a baby trait and will not be present after
the first molt. Doing very well, still getting in a lot of new feathers. Eating good,
about 15 - 18 cc's per feeding. Weighing 250 grams. Has been exploring with the
things around him that he sees. Gets along well with his box buddy.
---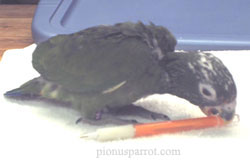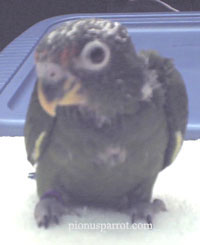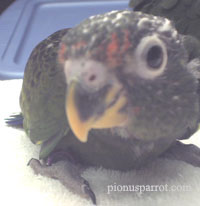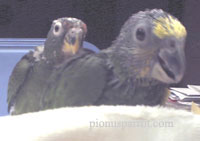 ← ↑ July 23, 2002 This Baby Maximilian is doing well. He is more
interested in exploring than he is eating. Eating only between 15 to 20 cc's
per feeding and is fed 4 times a day. Weight is at 255 grams.

Very sweet and is developing a nice personality
Gets along well with his little buddy the Orange Wing Amazon.

---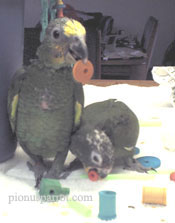 July 26, 2002 - Here are the babies hard at play with toy parts, they are learning to pick things up in the beak and try to hold it in the foot, the coordination of holding it in the foot is a little hard for them at this time.

They like to play with the hanging type toys that are hung in their box. The Orange Wing has learned to climb out of the box which is about 9" high from inside the box, he can pull himself up to the top and sit on the edge of the box.

They are able to walk on the counter surface now without slipping around too much. When a little younger, the leg muscles are not strong enough and the coordination is not developed to walk on a smooth surface like the counter which is a formica surface. At this age they are investigating everything they see. All objects are tested in their beak. They test for texture, strength, taste.
---
August 3, 02 - Please go to the Baby Orange Wing Page to see progress of Baby Maximilian.
---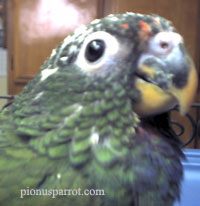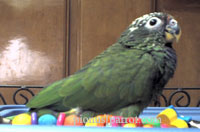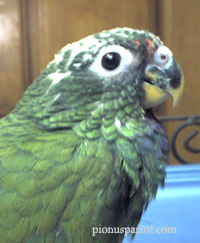 August 4th, 2002
---
August 12, 2002 - No photos at this time. The little sweetie is doing well, quite friendly. Being fed 3 times a day.
Had been flying around about one and a half weeks before the Orange Wing took his first flight. Now she has been grounded so to speak! She thinks she can still fly. She's a busy body, very inquisitive.
Check back later and I'll have more pics!
---
August 28, 2002 - This little birdy is ready for sale, like his little buddy the Orange Wing Amazon, he needs a
new family to adopt him/her now. This Maximilian is very sweet and loves to be held.
---
November 17, 2002
At this date this young Maximilian has been sold. She is quite a character and has a very good personality. She is constantly a busy body and loves the toys that she has, she destroys them! She is a bit scruffy looking at this time.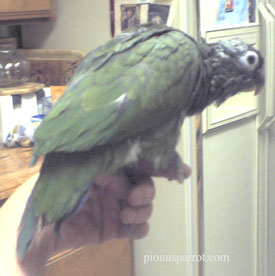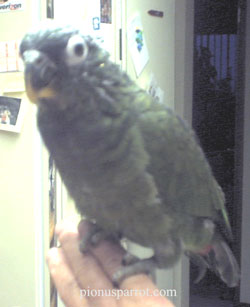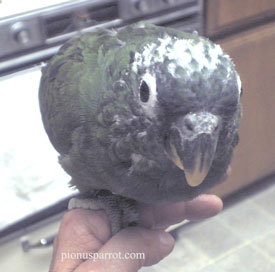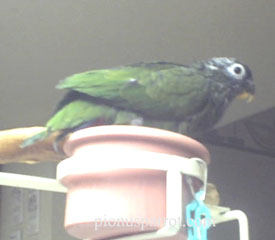 ---
This young Maximilian went to her new home today on 11/23/02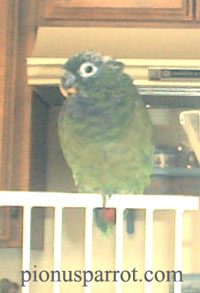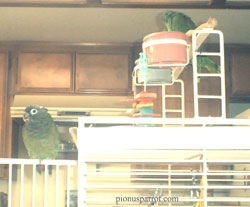 Updated 11/ 23 /02
Back to Baby Birds Page
Baby Orange Wing Updates ~ Baby Orange Wing Updates Page 2 ~ Baby Blue Heads Updates