Coral Bill Pionus Babies From Pair # 1
These babies are hand fed babies and will be paired with other unrelated off spring.

New Info added with a link at end of page & updated on 2/23/09
2005
First clutch of 2005
Coral Bill Pair #1 was a proven pair when they came to me.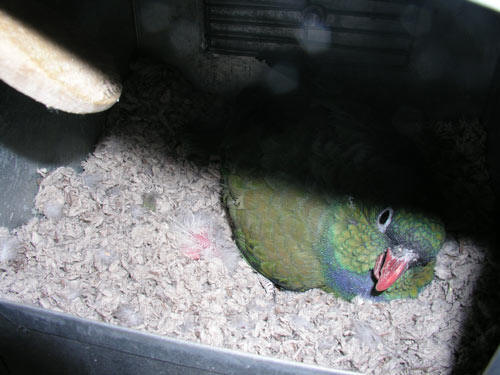 Hen in nest box with 1st new hatchling on 6/13/05. This clutch consisted of
3 eggs in nest and only two hatched and one was infertile.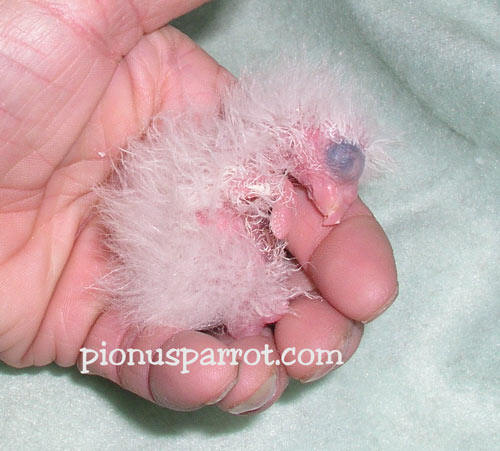 1st hatchling brought in to take a photo and then was put back in the nest.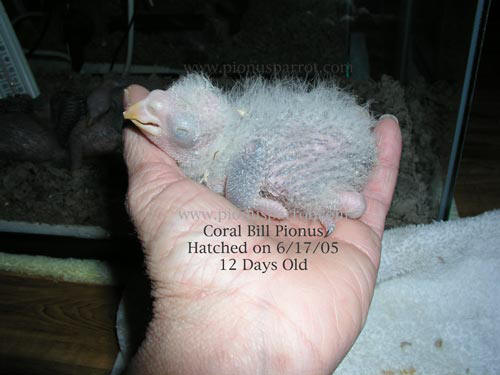 2nd hatchling hatched on 6/17/05. Photo take on 6/29/05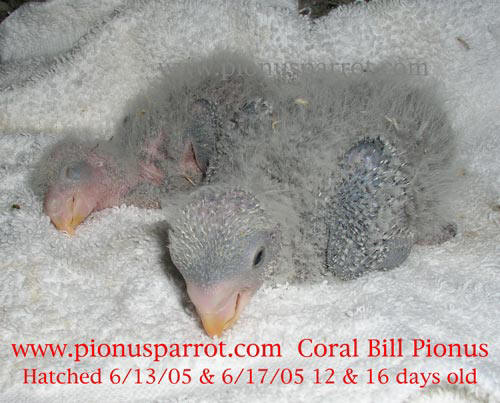 6/29/05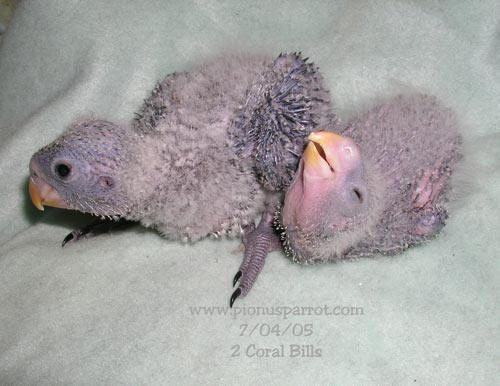 7/4/05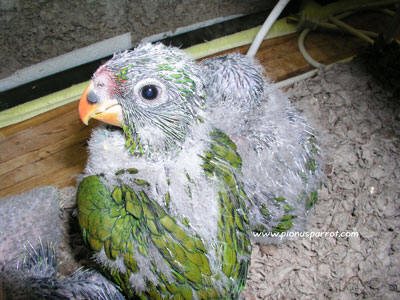 7/19/05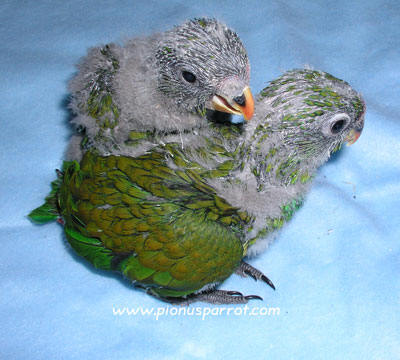 7/30/05
(These two males are named Fred & Bill)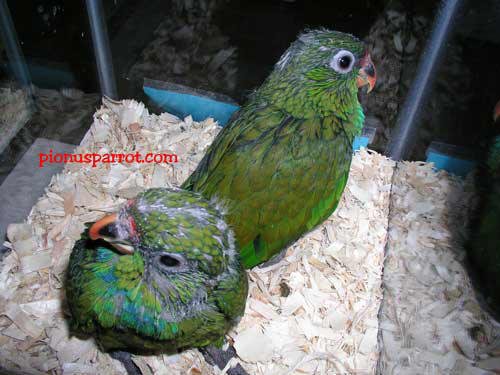 8/5/05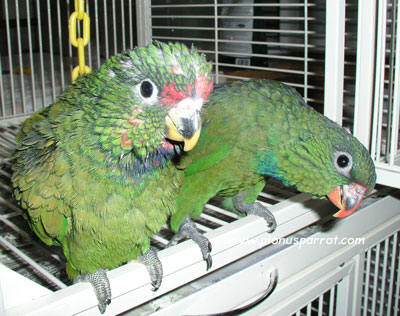 Left is a Maximilian with a Coral Bill on right - 8/15/05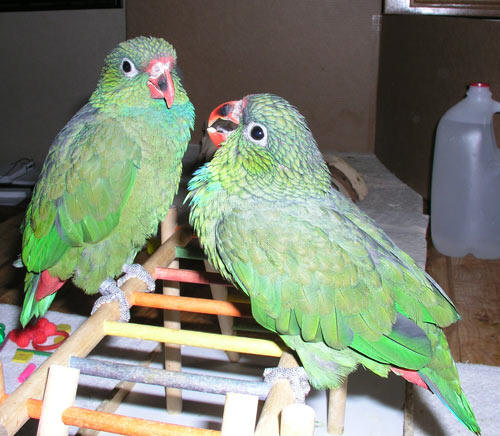 These two baby Coral Bills are both DNA sexed males. 9/18/05
(Fred & Bill)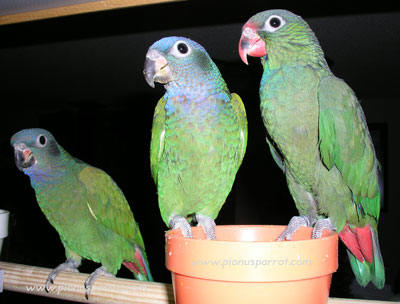 2 Blue Heads at left with Coral Bill on right - 10/6/05
---
Second clutch of eggs consisted of 3 eggs and were fertile but none hatched.
---
Female Coral Bill Hatched - From 3rd clutch of 3 eggs, 1 hatched and other
egg was fertile but did not hatch and one egg was infertile.
This was the 3rd egg of 3 that hatched on 10/3/05
This baby was named Puff and is Band #3.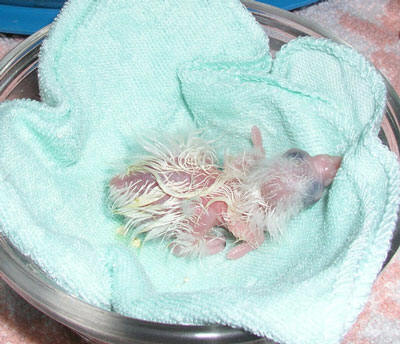 October 3, 2005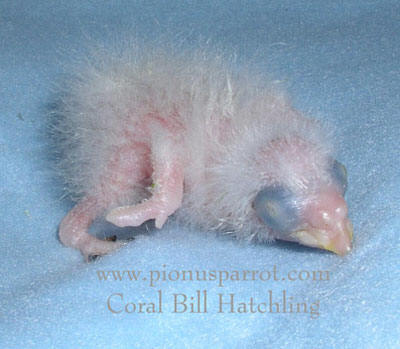 October 9, 2005 - Puff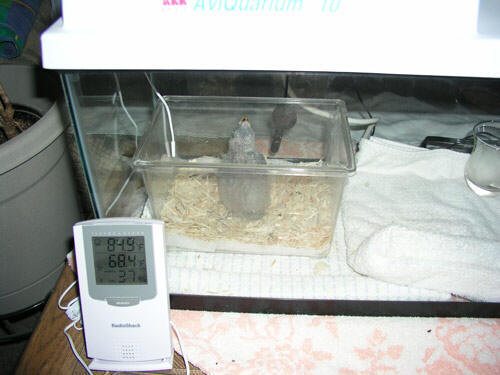 October 27, 2005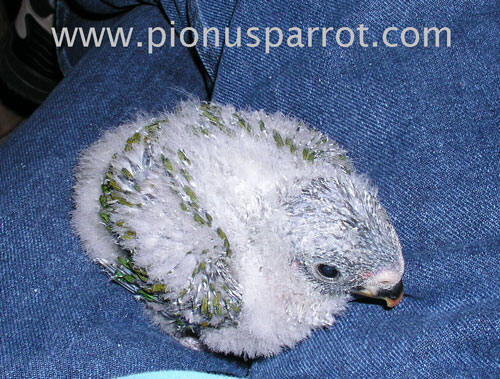 November 6, 2005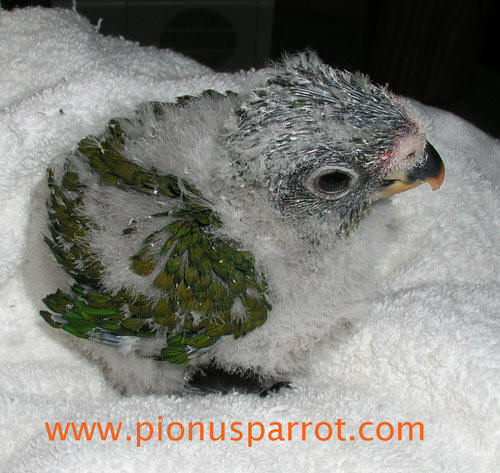 November 11, 2005

December 4, 2004
So I end up with two males and one female for 2005 which are produced from the same parents. The upcoming 2006 breeding season will hopefully be eventful and the #2 pair will produce. Then if they do and I have the right sexes to make pairs then they will be paired up eventually.
---
The 2005 Coral Bill offsprings
shown in 2006 - Grown
PUFF - Female Coral Bill

March 2006 - Puff is doing well and here she is 5 months old.

Puff


May 2006 - Puff is 7 months old.

Puff posing on my hand! As you can see she still has some black in her
beak which will fade away when she gets a bit older.

The 2 Males Fred & Bill of 2005 that are held for the up coming offspring when females are available then these males will be paired with unrelated females... hopefully! In this photo these males are now a year old as of June 13 & 17th of 2005.

2 Coral Bill Pionus Males

Shown here is the 2 males (Fred & Bill) with female (Puff) in center.
(Update: Puff [band#3] was traded to Bob & Ginny Queen for their future breeding stock.)
---
2006 Breeding Season
Coral Bill Pionus

Honey which is the hen from Pair #1 now has 2 chicks in her nest, Honey also produced last year the 3 young Coral Bills that you see on this page above. She only laid 2 egg this time and both have hatched out as of July 19th and 21st 2006. In this photo you see one chick that is out from under the hen while the other one is under her!
(Update: The 2nd of these two chicks had died that hatched on 7/21 at 12 days old. The first that was hatched on 7/19 and was banded as #4 was traded to Bob & Ginny Queen for their future breeding stock.)
At this time Coral Bill Pair #2 has not gone to nest and most likely will not for 2006.
******************************
2007 Breeding Season
December 13, 2007
For the 2007 year, Coral Bill Pair #1 produced 3 babies which the first two were sexed as males (Bud & Kyle) from first clutch and then a second clutch was laid and 2 eggs were laid but only one hatched out and was sexed as a female and was named Girlie. One of these two males will be paired up with a single female that will make up my 5th pair of Coral Bills. The other two will remain as future breeding stock when other unrelated mates can be paired.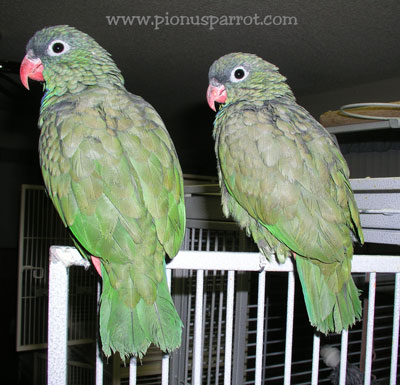 Two Males - #5 (named Bud) on left and #6 (named Kyle) on right! Both Sweet! These two
are from our pair #1.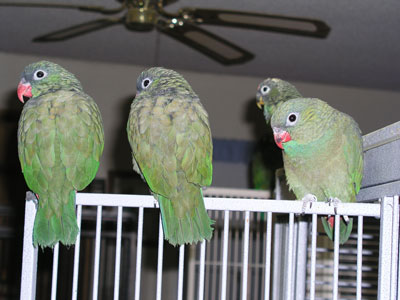 Two males (Bud & Kyle) and the female (Girlie) on right side and a Maximilian in the background.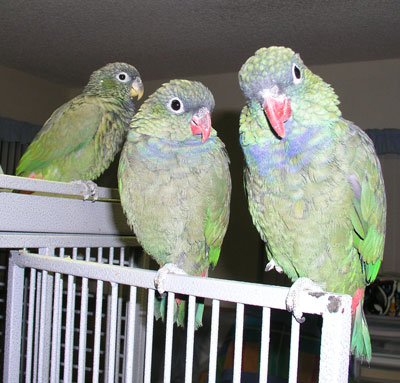 Both Males and a Maximilian on the left hand side.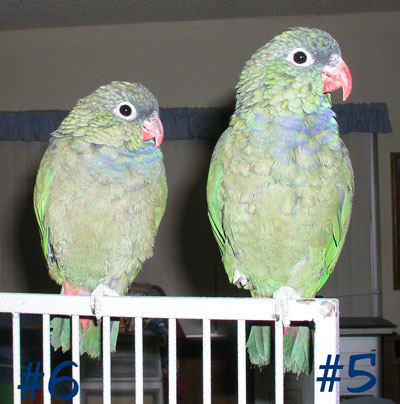 Two same males (Bud & Kyle)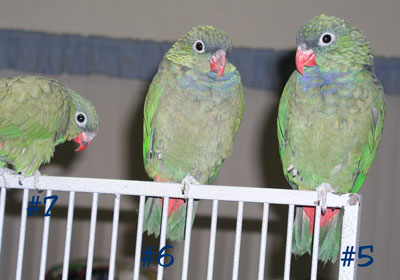 Band #5 who is Bud is the one who will be paired with the single female that I have waiting to be paired who is Cutie - the female may be brought in to be introduced and then put together while in here and then come late spring or early summer the male and female can be put out into the aviary... by then they should be well adjusted with each other. The other two will be caged separately and also be put in aviary caging as well but not together as they are brother and sister.
September 7, 2008
Honey & Babe's first clutch laid for the 2008 year had 3 eggs in the nest. The first egg did not hatch out and was dead in the shell and had not absorbed any of the yolk sac, Apparently there was a problem with the chick at some point. The 2nd egg did hatch and the 3rd egg did not fully develop.


Brought in and weighed and then returned to the nest.
(Name is Jake and is band #8)


Brought in again on 7/06/08 for a weigh in and photos. This chick was acceptionally cute to me!


Same photo cession.
This Baby has the name of "Jake".

I let Jake who is a male (band# JMR 8 CA) stay in the nest with his parents Honey & Babe until he was at least 2 months old and I visited Jake and watched the parents and the progress in his devlopement. I handled him more after Honey was spending more time out of her nest which they will stay out of the nest a lot once the chick is older. Finally, I pulled Jake from the nest to take over and hand feed him and he transitioned nicely with no problems at all! He was a very friendly young chick for being parent raised for a full 2 months, with me handling him off and on often was a key factor of his friendliness.

At this time he is 2 days shy of being 3 months old and is still eating often 3 times per day on hand feedings. He DNA'ed as a male. Has a nice personality.

Sept. 7, 08 - I will update soon again as Honey & Babe now again have 3 new eggs that show to be fertile and I will show some more updated photos of this male shown above.

Oct. 16, 08 - Out of the 3 eggs laid in the nest, only one hatched (shown below) which was the first of the three laid in this 2nd clutch for the 2008 season. The other two eggs did not sucessfully hatch in the nest, one egg was part way hatched but looked more like Honey had tried to help the chick hatch out, the other egg did not fully develop.

At 3 weeks now, the baby who I named Gabby and is band# JMR 9 CA, she is doing well and is now being hand fed. She did not stay out in the nest any longer because it had turned bitterly cold being near mid October and I was afraid that if she was out from under her mama that she may not survive so she is now in a brooder all snug and warm!

Now eating along 13cc's of formula 6 times per day at this age. Starting to get in pin feathers as well.

Stay in touch for further photos on more development.

See page 2 for more up coming info HERE


Watch more updates of the Coral Bill Pionus Breeder Program.